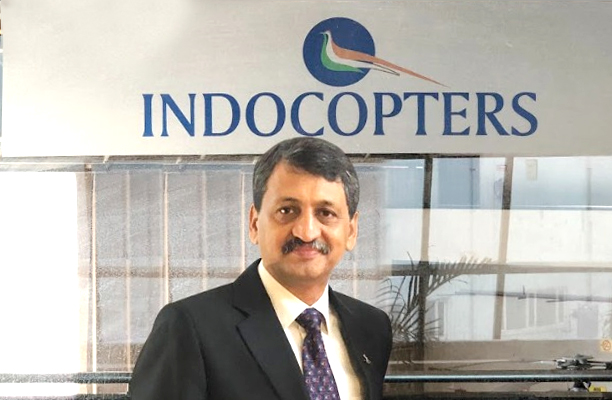 Message from the CEO
Welcome and thank you for visiting the Indocopters website.
Indocopters is committed to provide the highest standards of service and become the industry reference in rotary wing MRO and support services in the Indian subcontinent.
We are proud of the work we do at Indocopters - adhering to the laid down best practices at all times, maintaining a perfect safety record and constantly endeavouring to improve our performance. We believe in building a relationship of mutual trust with all our clients by providing efficient customer focussed service with complete transparency.
Whether you are a prospective partner, an existing partner or a future employee looking for new opportunities, I trust you will find what you are looking for here.
I invite you to explore our website and know more about all we have to offer. If you have any questions about Indocopters, please feel free to contact me directly at any time. I can be reached at ajay.shah@indocopters.com
Sincerely
Ajay Shah
CEO and Accountable Manager

Ajay Shah
CEO
Ajay has more than 30 years of management experience in the defence and civil aviation industry. He is a veteran of the Armed Forces and is known to have a hands-on approach for managing challenging situations. Prior to joining Indocopters in November 2019, he was with Global Vectra Helicorp Ltd, India's largest private helicopter operator and a sister concern of Indocopters for more than eight years heading the Commercials and Projects department at their Onshore Division.
Kuldeep Kumar
Head of Engineering
Kuldeep is a certified Aircraft Maintenance Engineer and has type experience on more than ten light and medium rotorcrafts. Besides, he is also a Level 2 certified engineer for various variants of engines manufactured by Safran Helicopter Engines. He has been with Indocopters since 2007 and has over a decade's experience of managing a team as Maintenance Manager, both within the Country as well as at overseas stations.

Abhay Maheshwari
Planning Manager
Abhay is an alumnus of IIT Kanpur and IIT Madras. An aeronautical engineer to the core, his stint in the aviation industry began more than 29 years ago. Before joining Indocopters in 2008, Abhay has served with Pawan Hans Ltd., State Govt. of Chhattisgarh and Global Vectra Helicorp Ltd. In his present role as Planning Manager at Indocopters, he is responsible for the timely accomplishment of routine and specialised maintenance related tasks.

Sanjay Srivastava
Quality Manager
Sanjay is a certified Aircraft Maintenance Engineer from the Indian Institute of Aeronautics. He has over 26 years of aviation experience and has been with Indocopters since 2007. He specialises in CAR 145 and CAR-M environment management. As Quality Manager, he heads the quality control and airworthiness compliance department at Indocopters.

Capt. Lalit Agnihotri
Head of Operations
& Chief Pilot
Capt Lalit Agnihotri is a Defence Forces veteran and has served the Indian Army. An avid aviator for more than 26 years, which includes his time spent in Army Aviation as well as Civil Aviation, Capt. Agnihotri has more than 3000 hours of incident free flight time to his credit. A people person with sharp flying skills, he is the Chief Pilot and Head of Operations at Indocopters.

Sumit Pathak
DGM Finance
Sumit is a certified Chartered Accountant and possesses a degree from the Institute of Chartered Accountants of India (ICAI). He has been with Indocopters since 2014. With an incisive knack of finance and accounts management and an eye for detail, gathered from his experience of over 19 years, Sumit presently manages the finance department at Indocopters.

Vikas Tyagi
DGM Admin, HR & Security
Vikas is an MBA and an alumnus of Lal Bahadur Shastri Institute of Management & Development Studies. Before joining Indocopters in 2011, he has served with various renowned export houses in their Admin / HR departments. General administration and HRM form the core of Vikas's expertise and overall experience of more than 21 years in the corporate sector.